Delivery and Orders
Order Fulfilment
Recycled Packaging
Direct/Collect from Wayfarer
Courier Delivery Regions and Estimated Transit times
Shortages, Damages or Loss in Transit
Faulty Items
Force Majeure
International Orders
Goods and Services Tax


ORDER FULFILMENT:
Your order will be dispatched within 1-3 business days of receipt of full payment and will be shipped either by NZ Post or via Fastway Couriers, depending on the option selected during checkout. In the case of courier delivery, you will receive track and trace information when the item is shipped to enable you to track your order. Please then allow 1-5 business days for delivery. If your order does not arrive after 7 business days, please contact us and we will immediately work on rectifying the problem.

Dispatch times depend on the nature of the items ordered. Usually most items are dispatched 1 - 3 days from receipt of payment. In the case of canvas prints, which are hand made, some are kept on hand and may be dispatched within 1 to 3 days. If we have to make to order, however, delivery will be a little longer, as the print must be made and the UV protective coating, which is applied as a liquid, requires some curing time before the final product is suitable for packaging and transit. Typically made to order items should require no longer than 3-4 days before shipping can commence.

In the event that the customer's product of choice is not available, Wayfarer Images will notify the buyer with alternative options. These options may include the purchase of a different design, delivery at a later specified date or time, or cancellation of the order.


RECYCLED PACKAGING:
Wayfarer Images endeavours to use recycled packaging wherever possible.


DIRECT COLLECT FROM WAYFARER (PICKUP AND PAY):
We offer customers the option of collecting orders with payment directly from our Oratia, West Auckland premises, by agreement. If you select this option, we will email you to arrange a suitable time for collection and payment.


COURIER DELIVERY AND ESTIMATED TRANSIT TIMES: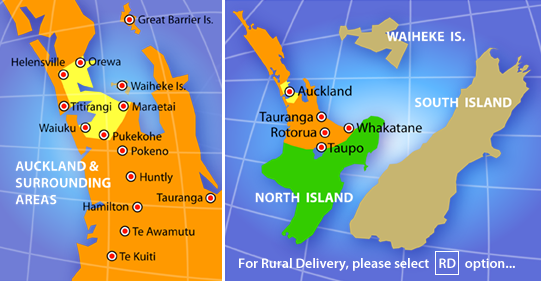 The map above is what you can expect to see in the Shipping stage of the checkout process and applies to Courier delivery only. You will be asked to select your destination from the regions defined by the coloured areas that best describes your exact delivery location. Please select the RD option if you are in a Rural Delivery area.

A Fastpost option to anywhere in New Zealand is available when ordering smaller items only.

PLEASE NOTE: Shipping and Postage costs include packaging, handling and GST. Delivery times are estimates only. They apply after dispatch and do not necessarily include time for order processing or making to order.



NZ POST, anywhere in New Zealand:
Depends on NZ Post's current delivery guidelines




OREWA TO PUKEKOHE:



1 Working day


Rural Delivery - 2-5 Working days



OREWA NORTH, PUKEKOHE to TAUPO, including Great Barrier Island:
1 Working day



Rural Delivery - 2-5 Working days




NORTH ISLAND, TAUPO SOUTHWARD:
1 Working day




Rural Delivery - 2-5 Working days




SOUTH ISLAND, Waiheke Island:
2 Working days




Rural Delivery - 2-5 Working days


SHORTAGES, DAMAGED OR LOSS IN TRANSIT:
Liability for shortages in the quantity of goods delivered is limited to making up the shortages. No claim for shortages in quantity will be allowed unless the customer gives notification of the shortage in writing within 7 days of the delivery and provides a reasonable opportunity for Wayfarer Images (hereinafter referred to as 'the seller') to investigate the claim.

Goods leaving our premises are adequately packed. Claims for damage or loss in transit must be made against the carrier in the prescribed manner:

(a) Prior to acknowledging delivery to the carrier the buyer must ensure that the complete consignment as per the carrier's note has been received.

(b) Should there be a shortage or visible damage to outer packaging the carrier's note must be endorsed accordingly.

(c) Within 7 days of receipt of consignment the buyer must ensure that all goods received are in good order and condition.

No claims will be considered after 7 days of receipt of goods. While no liability for goods damaged or lost in transit will be accepted by the seller, details of any claim should be advised to the seller.

If your order is damaged upon arrival please notify Wayfarer Images immediately via the Contact page.


FAULTY ITEMS:
Material, design or production faults are rare. If you find your product to be defective please contact us immediately and we will make arrangements to provide an appropriate solution.


FORCE MAJEURE:
The seller shall not be liable to the buyer for any loss or damage directly or indirectly arising out of or in connection with any delay in delivery of the goods, or failure to perform any term of this contract where such delay or failure is caused directly or indirectly by an 'act of God', fire, armed conflict, labour dispute, civil commotion, intervention of a government, inability to obtain labour, materials or facilities and accidents, interruptions of, or delay in transportation or any other cause beyond the seller's control.


INTERNATIONAL ORDERS:
Wayfarer Images does not currently accept orders destined for locations outside of New Zealand through the website shopping cart system. However, we are open to enquiries should customers wish to make a purchase to be delivered to an overseas destination. These will be handled on a case by case basis by normal email. Please use our contact form to register a request for international delivery, providing details of the intended destination. We are happy to provide a quotation for shipping to locations outside NZ, but reserve the right to decline overseas orders at our discretion.


GOODS AND SERVICES TAX:
All goods and prices on Wayfarer Images are listed in New Zealand Dollars (NZD) and include 15% GST (Goods and Services Tax). This tax is not applicable to any international orders we undertake to fulfil (some exceptions may apply eg. Australia).

Please also read our Terms and Conditions.